Carbon GTR Street
 In 2013 Evolve Skateboards designed the world's first carbon fibre electric skateboard and has maintained the gold standard since. The Carbon GTR is the epitome of sophistication in electric skateboard design, performance and build quality. The legacy it upholds not only takes that performance down roads less travelled, it blazes a new path of its own. If Batman owned an electric skateboard, this would be it! 
The Tech
Handmade from 100% Carbon fibre, the GTR deck beautifully conceals the electric system which is powered by our new patent pending Power Flex battery technology and the best 18650 lithium ion battery cells available. Providing you with real-world range of up to 50km per charge, this board will turn any road or path into the endless wave of your dreams. This coupled with Bluetooth communication is a game changer for Evolve skateboards as it provides instant power and ultra smooth acceleration and braking performance, placing the ultimate in intuitive riding control in your hands. With 3000 watts of twin brushless sensored motor power driving our new made in USA Evolve GT 97mm inline race formula wheels, this triple matte black beast is like a panther unleashed.
The Ride
With an undeniably sexy low profile and a concave deck built for those who like to be in control, corners will turn into apexes, open stretches into runways, and wide open paths will make your list of favourite powder runs. A badass weapon with a high-tech vibe, the Carbon GTR Street is a stealth predator that likes to eat hills for breakfast. With a gripy super smooth ride you'll have the ultimate in control and stability.
Optional Extras
The Evolve Carbon GTR Street offers even more flexibility for the riding enthusiast than ever before with a new airline friendly swappable battery option for those who want to take their Evolve boards with them when travelling. Now you can also track and share your rides and compete against the world wide community on the new Explore by Evolveapp, along with over the air updates for IOS and Android phones. Unlike other boards on the market the Carbon GTR Street is compatible with our All Terrain Kit which completely changes the feeling by opening up a world of new paths for you to explore.
The Remote and App
The Evolve Carbon GTR Street offers more riding modes than ever before allowing riders of any level to safely enjoy the product and have the ability to adjust your riding mode while riding to suit conditions and maximize efficiency.  Use 'ECO' mode for easy control and a safe top speed, perfect for beginners and those riders wanting a relaxed ride with longest ride times.  Use 'PRO' mode to whizz past traffic and turn your commute into your daily adrenaline rush hour, and if you dare, switch to GTR mode to unleash insane power and acceleration with the ability to climb hills of up to 25% gradient.  For those that want a power curve that is different to ECO/PRO/GTR modes, select CUST (custom) mode on the remote, then open up the Explore by Evolveapp and dial in the power curve to suit your riding style.  In this mode you can adjust the power to be weaker or even stronger than the stock speed mode settings that come with the R2 remote. 
Feel the Difference.
What's in the box?
Evolve Carbon GTR Street Skateboard

Evolve Carry Case containing – R2 BT remote, Fast charger, Y-Tool, Spare screws

Manual and sticker pack
WHAT'S IN THE BOX?
Your new Carbon GTR Street
Super fast charger
R2 bluetooth remote with carrying case
Accessory carrying case
Y skate tool
Spare screw set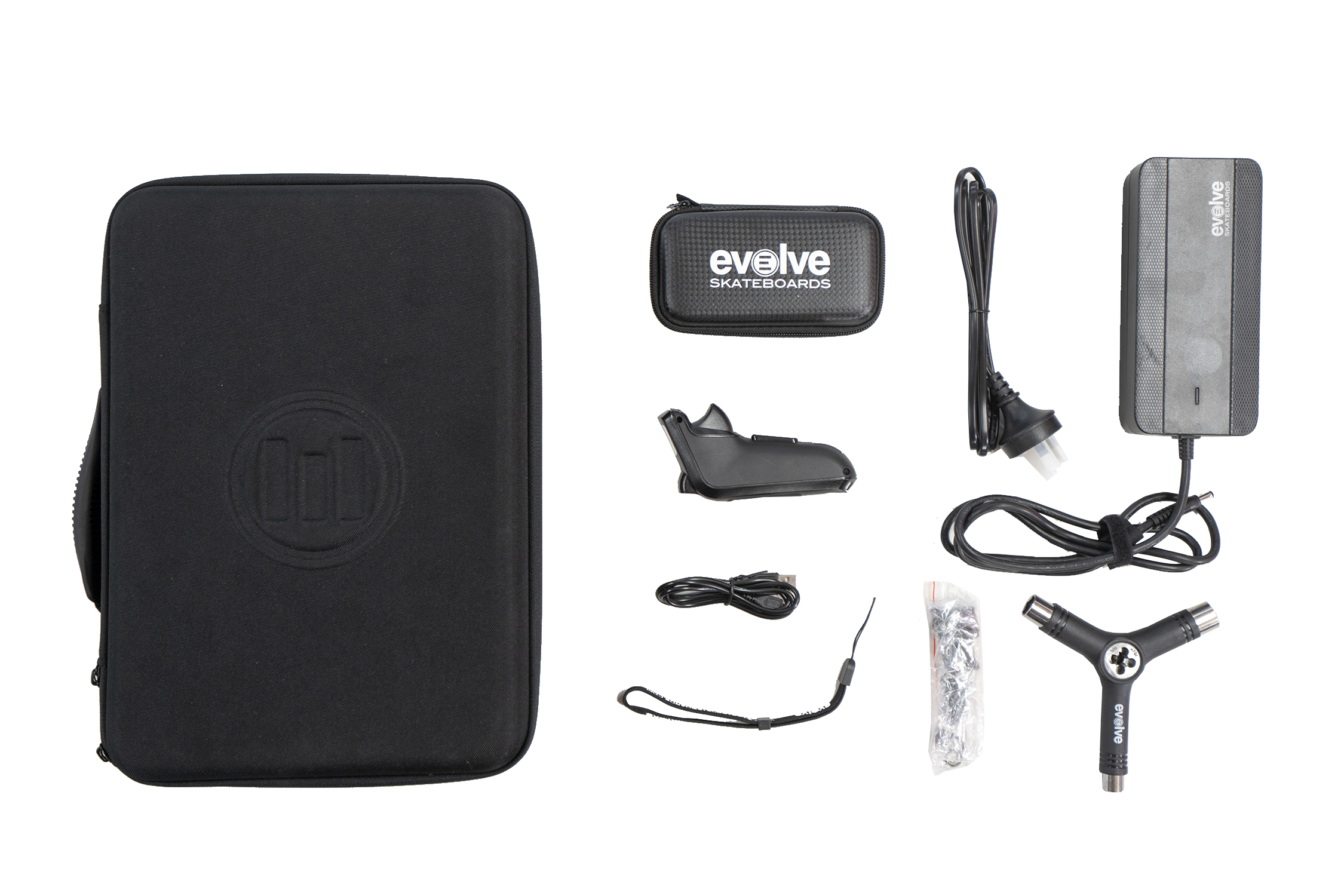 Love my baby
Great board easy to maneuver, great range more than enough power and speed couldn't have made a better purchase...
More range than expected!
Weather permitting I ride my GTR everyday, over the hill and through the woods! It powers up the hills and keeps going. With going through trails, Rocky Roads, ups and downs... I clocked 23 mile range!!
Carbon GTR ALLTERRAIN 1st range test
👍 Great job Jeff and crew on the new GTR. I am fortunate to have a GT Carbon A T. And the new performance , is astounding ! Remote screen shut off when lowered below waist , to save power on the R2 is brilliant. I kept my speed down ,and made smooth usage of throttle and brakes, and I arrived back at the house with over 70 percent left on board and R2 had plenty of juice ,after going around 8 miles. Thanks Evolve for my long range board .
Great board
This is my second evolve board. It's such an improvement over my original carbon board. It's atill way overpriced but it is the best board I've ever ridden.
GTR Carbon 2 in 1
Have been riding this for a good month now! In the AT setting I'm getting 20 plus miles with no sag. I've had to reset remote once to get a better and quicker connection. Overall I'm very happy with this board and it fits all my needs. Thanks Evolve.