WHAT'S IN THE BOX?
Your new Carbon GTR All Terrain
Super fast charger
R2 bluetooth remote with carrying case
Accessory carrying case
Y skate tool
Spare screw set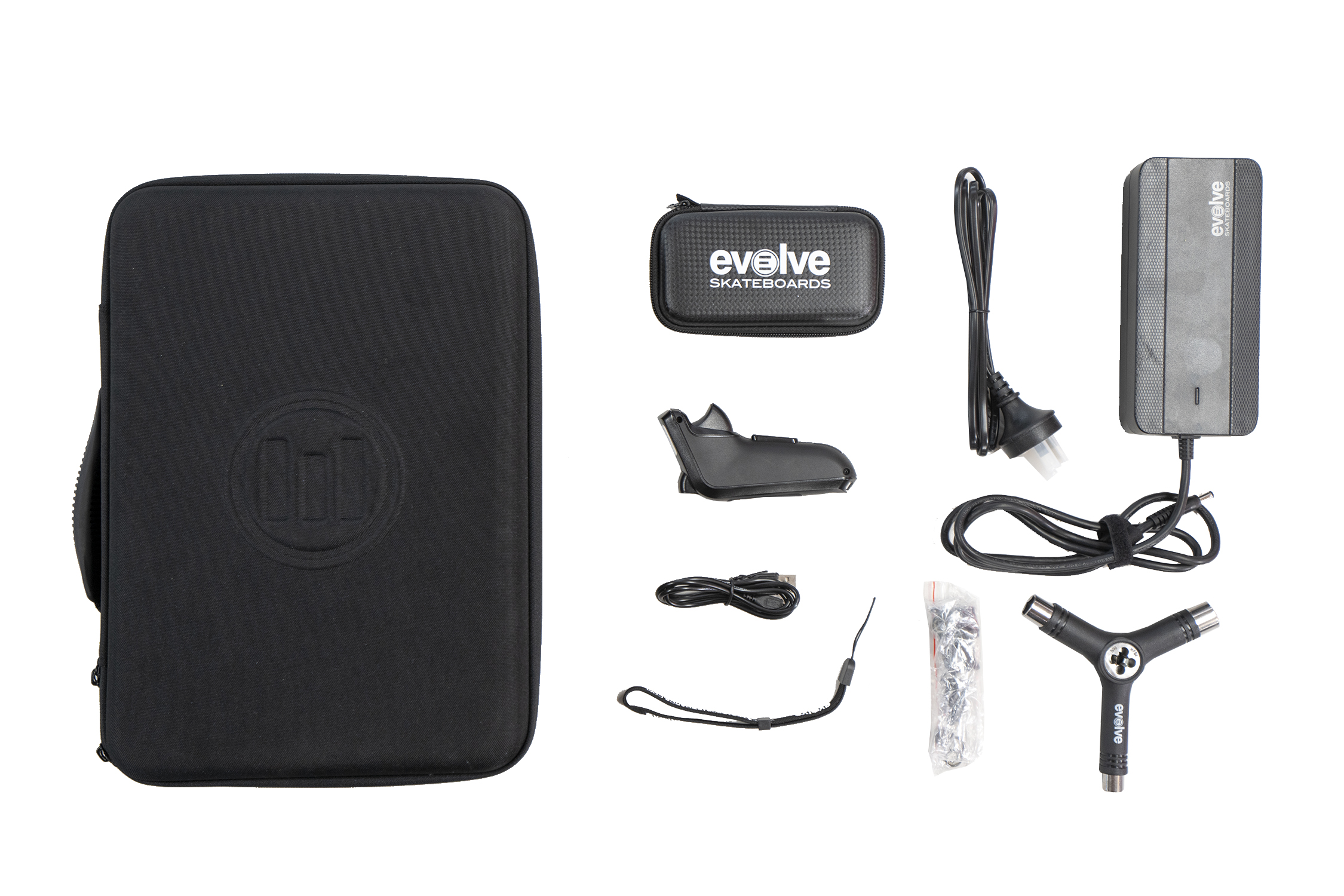 GTR electric skateboard!
So far I really like the ride on my GTR ELECTRIC SKATEBOARD. I've rode it here at Mesa, ARIZONA around the block to get use to. And, I'll be doing more testing thru times to and more riding with it. What I want to test it on is to test it to a long ride. Once I do I'll write more feedback on it.
Carbon Batmobile
This was my 2nd esk8 board, I quickly sold my first shortly afterwards 😂. I love everything about the Carbon; the sleek low profile of the deck and battery compartment, the stability and comfort of the ride at speeds and over terrain. 2n1 is the best option by far, it will allow you to find out what type of rider you are right off the rip!!! The Carbon has turned me into a Evolve die hard, I've since bought a Bamboo and the Stoke is going to join my collection in the future. If you want an outstanding product and an exceptional company with awesome costumer service? Look no further than Evolve Skateboard's, EvolveUSA and EvolveUK etc. 🤙🏻👌🏻🤜🏻👍🏻🇺🇸🇦🇺🇬🇧
Evolve GTR in Chattanooga TN
We love our new Evolve GTR all terrain longboard! Great carving - just like surfing, and super-stable at high speeds! Really smooths out the rough roads, and makes it easy to climb the hills in our area. The flex in the board, the innovative truck design and the air-filled AT tires make the ride really comfortable. We love that the remote control is so configurable - it's easy to adjust settings on the fly to change the power output for any rider level.
Our Adventure Guides liked the Evolve GTR so much that we signed up to become a retailer for Evolve. We're now using our board for demo rides for prospective buyers and for adventure-seekers looking to check out the sport of longboarding!
From Boosted to Evolve
If you haven't ridden an Evolve, all you see is sticker shock. When compared to Meepo and other brands from $500-1000, you think, why should I pay $2000 USD for a board?
I've been riding boosted V2 for a few years, with some hard riding on NYC streets. I bought an extended battery for extra mileage and even replaced the wheels. After doing extensive research and looking at all the reviews, I decided to give Evolve a try.
After receiving the board, I was impressed. I did have a few misgivings. The controller took some getting used to. It even started coming apart at the seam, but I fixed it with a little crazy glue. Wasn't a deal breaker. I got the AT Carbon GTR setup. At first, I wasn't getting top speed. But after checking and making sure the tires were filled properly, I was able to achieve the speeds as advertised.
Here are the pros: I was getting way more mileage out of my Evolve compared to my boosted, even with Boosted's extended battery. Even at the GTR setting I was able to get at least 16-19 miles. AT wheels chew through NYC pothole ridden streets. After using double king pin trucks, you will never go back. Gone are the days of small turn radiuses.
Now cons, or in retrospect, here's what I would've done differently. Although I love the look of the Carbon GTR setup, I probably would've gotten the Bamboo GTR with 107 wheels and as well as AT. I suggest you do the same. However, I am content for now and one day I will get the Bamboo GTR (or next gen) with a street wheel setup. Also, this is one HEAVY board. I did get the bag, but it is defintely heavy and cumbersome to carry around. But it's a tradeoff, you want something substantial between you and the road.
Getting an Evolve GTR is worth the price. A buddy of mine and I ride throughtout the city and he has a Meepo and some boards with kits he attached to his longboard. I do not take away anything from other companies, but…. he has definitely spent the same if not more going through warranty replacements and other boards just to get the same experience.
Do yourself a favor. Invest in an Evolve. You won't look back.
Customers Who Bought This Item Also Bought