WHAT'S IN THE BOX?
Your new Carbon GTR 2in1
Super fast charger
R2 bluetooth remote with carrying case
Accessory carrying case
Y skate tool
Spare screw set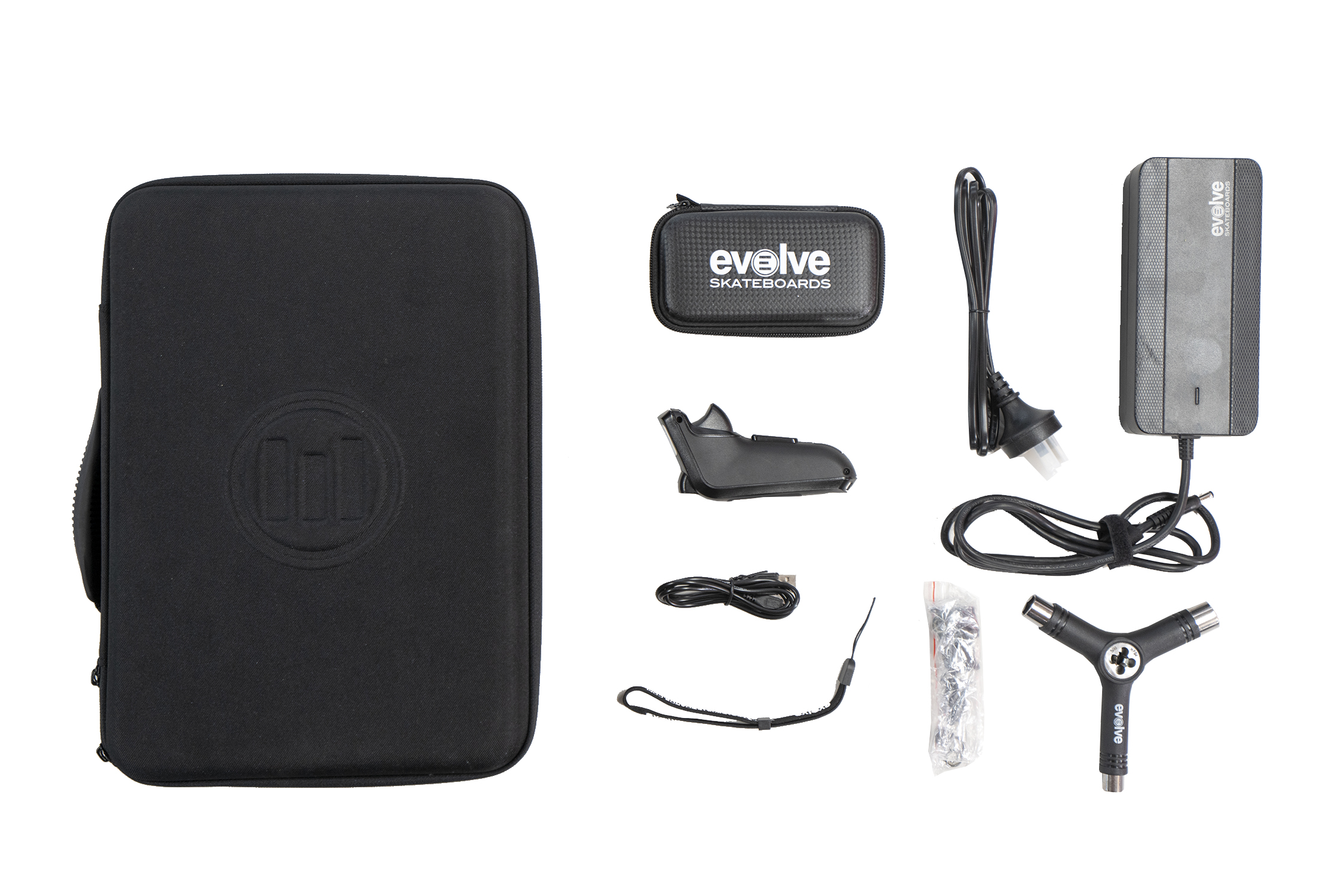 Super fun
About a month in and having a blast.
Boosted is Gone
You wouldn't believe how dreamy this board is until you have it in your hands. I watched countless videos on this board but nothing compares to having it IRL. I love this board especially with the 107's.
I'm coming from a boosted mini X and it was a great skateboard, but I felt it was too small and I always wanted more speed. I took a nasty fall one day and it prompted me to get something that would feel more stable under my feet. I was looking into the boosted stealth but one thing that I didn't like much about my mini X was the range. And no doubt the boosted stealth would have had similar range to my mini x especially if I full throttled all the way. I browsed online and ultimately ended up choosing evolve because of their range, speed, and reliability. They've been in the game for 10 years and unlike boosted it doesn't seem like Evolve is going anywhere. I love my carbon GTR, so far no issues. But I do want to note , new owners run a reset on your remote before you begin riding just to make sure any bumps that occurred during shipping get sorted out.
GTR electric skateboard!
So far I really like the ride on my GTR ELECTRIC SKATEBOARD. I've rode it here at Mesa, ARIZONA around the block to get use to. And, I'll be doing more testing thru times to and more riding with it. What I want to test it on is to test it to a long ride. Once I do I'll write more feedback on it.
Carbon Batmobile
This was my 2nd esk8 board, I quickly sold my first shortly afterwards 😂. I love everything about the Carbon; the sleek low profile of the deck and battery compartment, the stability and comfort of the ride at speeds and over terrain. 2n1 is the best option by far, it will allow you to find out what type of rider you are right off the rip!!! The Carbon has turned me into a Evolve die hard, I've since bought a Bamboo and the Stoke is going to join my collection in the future. If you want an outstanding product and an exceptional company with awesome costumer service? Look no further than Evolve Skateboard's, EvolveUSA and EvolveUK etc. 🤙🏻👌🏻🤜🏻👍🏻🇺🇸🇦🇺🇬🇧
Customers Who Bought This Item Also Bought