WHAT'S IN THE BOX?
Your new Bamboo GTR 2in1
Super fast charger
R2 bluetooth remote with carrying case
Accessory carrying case
Y Skate Tool
Spare Screw Set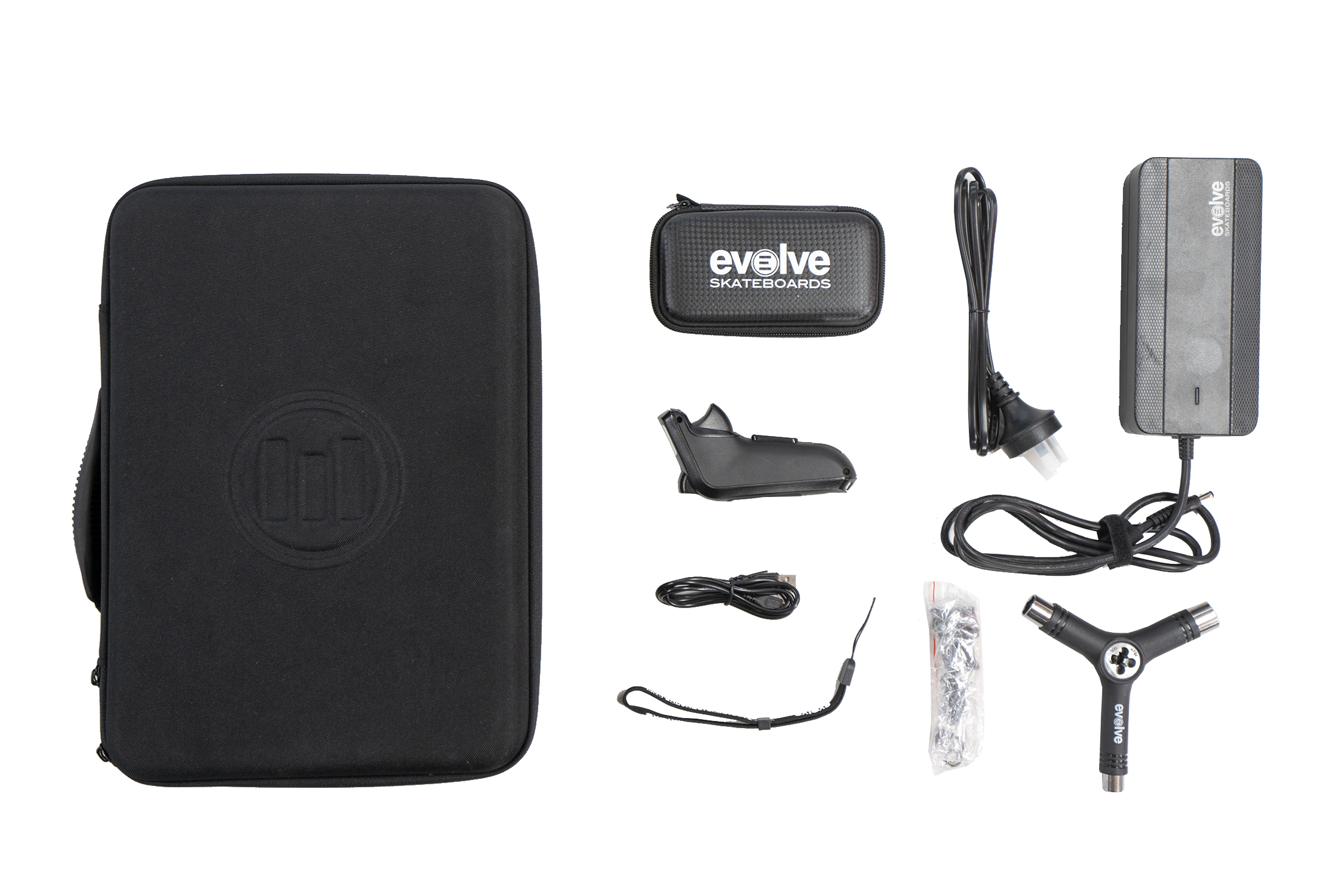 Awesome! 4-year BGT/CGT owner, GTR even better!
The Bamboo GTR continues all of the good qualities that I loved about my GT boards, and fixes all the areas that needed a little improvement.
I've owned my GT boards over 4 years, and put over 5000 miles on both. I'm a "mature" performance enthusiast who skated a ton, for over 10 years, when I was young. I can honestly say the Evolve boards have changed my life! Maybe that's a bit too dramatic, but honestly they've given me a new activity I love and way to be active and outdoors.
Back to the GTR. Most obvious improvement is of course the battery pack. I built 2 packs for my boards after the originals died, and am so glad to see Evolve has gone to an 18650-based pack, with quality cells. No more voltage drop! And thank God, the battery % reading on the controller now reads accurately!
The next huge improvement is the R2 controller. I know it's been out for a while, but this was my first experience with it. Love it. Every problem area with the original controller has been addressed. Love the long travel, smooth throttle lever. The deadman switch and new brake position are taking sime getting used to, but I'm sure with time they will also become 2nd natutre.
Overall, I loved my GTs, but after 4 years and many 1000s of miles, it was time to upgrade. And the GTR is a huge improvement in every area. It's so good, I wanna buy a 2nd one and put it in storage, just in case, to have in the future!
Hands down axceeded expectations. LIKE A MIC DROP
This board rips. Far faster and more powerfull than needed for cruising. The power is definatly good for hills. I weigh 200lbs and went down a dead end hill (steep) I did not think this board had the balls for the hill. Oh was I wrong, not only did the beast eat the hill ( in gtr mode) it did so at half throttle, probably could have wheeled on the way up, no joke. I found that for first rides setting speed limit ( yup that intuitive you can set the mph limiter) at 12mph and running in pro (Gtr for hills) was best to cruise. My back ground is years of snowboarding. This thing is on the next level. I looked at alot of competitive boards glad I chose evolve. So far great customer service, they answered first time, no wait, spoke english lol. I have only rode minor off road. I will update after more off road. Thinking i would like to try front wheel drive model or all wheel drive model. Battery life is great rode 2 hrs up/down hills, lots of stop and go plus braking, and only spent 51% battery. I have to say thats great for shredding 200lbs. Wounder if external back pack battery is feasible for long rides. If two batteries would get 8hrs non stop rideing that would be suitable for a shred sled on this level. Again. I was also drawn to inflatable tires(i would like to see more options) and bamboo deck for ride comfort. Glad i went this rough cause it offers a more cushioned ride. HANDS DOWN WORTH THE MONEY.
Best all around Electric Board Out there.
First board. Friend has two. Love the board. Have the off road tires. Love it.
Awesome board
I have owned multiple budget electric skateboards and decided to upgrade to something a little more substantial and this board does not disappoint super carvy getting 25 plus miles range couldn't be happier with this purchase. I would also like to mention that the customer service is top notch excellent communication in a pleasure to deal with.
When I end up getting a new board I will definitely be purchasing from you guys. 🤙
Customers Who Bought This Item Also Bought