WHAT'S IN THE BOX?
Your new Carbon GTR All Terrain
Super fast charger (4A)
R2 Bluetooth Remote with carrying case
Accessory carrying case
Y skate tool
Spare screw set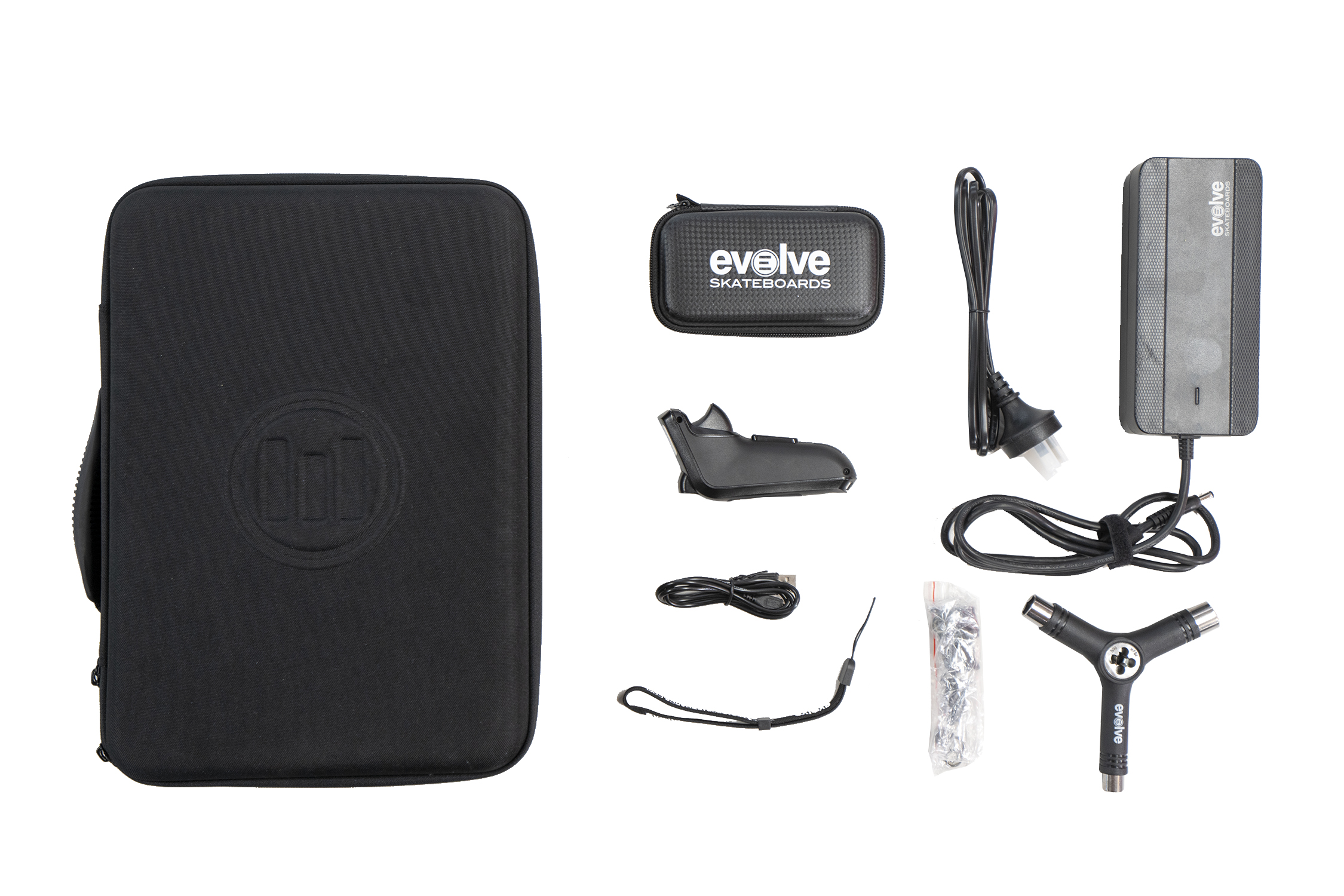 CUSTOMER REVIEWS
Good Board
This board is a great commuter board. The 175mm wheels will go over road imperfections and small potholes so it is much safer than smaller wheels. The board is stiff and more stable at full throttle than flexy bamboo. The ability to change modes and set the top speed on the remote is very nice feature that allows new riders to feel safe until they get their experience, balance and confidence to ride at max speed. With 175mm wheels expect to reach advertised 21mp/h the first 5-8 minutes of the ride until your battery level drops to 75%. Then, the max speed also drops to 18mph and stays like this until the battery is 0%. That drop to 75% happens very quickly so most of the time you will be ridding 18mph which is painfully slow.
Hey there!
Thank you for you feedback! We're glad you're enjoying your board! Battery and speed depend are affected by terrain, ride performance and board setup. If you have any questions on the battery or speed you are welcome to contact our customer service team at info@evolveskateboardsusa.com.
Thank you again and happy ridding!
Carbon GTR ATW . . . the only way to e-skate!
I was very excited to receive my new Evolve Carbon GTR. The day it arrived, I excitedly opened the packaging (nicely packaged by the way). The board itself is an engineering masterpiece. The carbon-fiber work is meticulous and just a thing of beauty. The motors, the trucks, the belt driven wheels all very impressively put together. The ATW (all Terrain Wheels) are awesome! They allow you to travel over so many various terrains as well as cracks, small holes and rocks on the pavement, street, sidewalks or whatever you're riding on. Being a heavier rider, I opted for the stiffer Carbon GTR over the Bamboo GTR and I was not disappointed. Even though it's stiffer, it's agile and handles very well. The new R2 remote is very well designed and user-friendly. I especially like the various power modes, especially for new e-board riders, like myself. The GTR has plenty of power and the various power modes on the R2 remote allow you a certain amount of safety until you're ready to move up to the faster modes. The accessory bag is nice to neatly keep all of your charging equipment, remote, Y-wrench tool and spare parts. Happy with my purchase and look forward to many more miles on this killer board. That is, if I can get my son off of it!
Customers Who Bought This Item Also Bought